To make sense of this post, I suggest you check out the following:
Rearranging the Rosary: An Introduction
The First Mysteries
Today, I'll take an oh-so brief look at the Second Mysteries.
The Second Joyful Mystery: The Visitation
Right after learning that she is to be the Mother of God, Mary hurries over to assist her cousin Elizabeth, whom she has just learnt is also expecting, in her old age. This kind of service, that completely forgets the self, is what we are called to as disciples

John the Baptist, not even born yet, leaps for joy as he recognises that he is in the presence of the Lamb of God. Does being in God's presence lead to awe, amazement, and joy?
The Second Luminous Mystery: The Wedding at Cana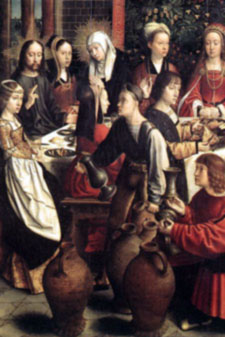 The Wedding at Cana
Our Lady's instructions to the servants: "Do whatever He tells you," provide the model for discipleship
This was the first sign that Jesus performed, and John tells us that the disciples "believed in Him"; (Jn. 2:11) belief in Christ is the crux of being a disciple.
The Second Sorrowful Mystery: The Scourging of Our Lord at the Pillar
We can unite the sufferings that we encounter, as disciples of Christ, with the immense suffering that the One whom we follow went through for us
The Second Glorious Mystery: The Ascension of Our Lord into Heaven
Our Lord's final instruction to His Apostles before He left them, was to "Go, make disciples of all nations."
So, our Christian life has some kind of beginning, and this is the beginning of being a disciple of Christ, which involves a life of service, suffering, obedience, and a joy that should overflow with such abundance that we are led to share Christ with others.